Skip to Content
All Your Fence Rental Needs in One Place
Express Fence Rental is San Francisco Bay's temporary fencing specialist! We serve the following industries: construction, special events, and emergency services. When you need to rent a fence for your construction site or special event, we can make sure you get exactly what you need, when you need it. Our company is family owned and operated, and it is built on a foundation of loyalty to the greater San Francisco Bay Area. We're from here, we live here, and we fully support our local community.
Reviews
We have used Express Fence for temporary fencing at our job sites for over five years. Along with being very reasonably priced they have been pleasure to work with. They show up when they are supposed to, leave the job site neat and clean and the fencing is always in good shape. We would highly recommend Express Fence for your fencing needs.
Express Fence was great! I needed a temporary fence the following day, and not only did they come to my rescue, but their prices were great! Very pleased with their customer service, response time, and overall service. I will definitely be calling Express Fence for my next rental!
Express Fence is always my first call when needing temporary fencing. They respond promptly and follow up on their commitments. I occasionally will get other bids and I always find Express to have the best pricing. I would recommend Express Fence to others.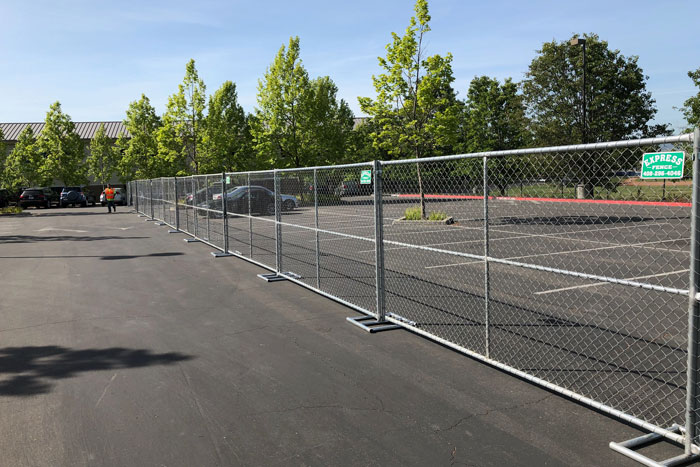 Fencing Solutions
The fencing solutions we most often provide for clients include:
Chain link fencing
Temporary panels
Temporary gates
Windscreen
Sandbags
Wheels
If you have questions about temporary fencing or you would like to arrange a rental, please contact our office to speak to a staff member. We'll always do our best to connect you with what you need!
Express Fence Rental Options
Need temporary fencing for an upcoming special event or construction site? Our company can help. We have worked with many homeowners and businesses in the San Francisco Bay region to provide fast, professional fence rental services for all types of different situations. Whether you have an upcoming special event or you are a builder that needs suitable fencing for a project, we are here to serve you. Temporary fencing is our specialty, and we have done all kinds of jobs in the Bay Area. You're in good hands with us!