Skip to Content
Post Driven/Tree Protection
San Francisco's Driven Fence Experts
Express Fence Rental can help you connect with an in-ground driven fence that provides your jobsite or special event with a sturdy option for temporary fencing. This is known as a post-driven chain link fence. This type of fence is a more secure choice than the free-standing fence panels. In this style, the chain link is attached to posts that have been driven into the ground, hence the name. Choose this type of structure when you need additional stability, or more of a lengthy solution than a temporary fence provides.
We have supplied many different industries with driven posts and chain link fences. Some clients have used these to direct foot traffic, while others use them to help secure jobsites. There are many uses for this type of fencing, and we strive to work with customers to dial in a fencing setup that works perfectly for their given situation. We understand that no two customers are going to have the exact same needs. Call our office today to spec out your portable driven fence today!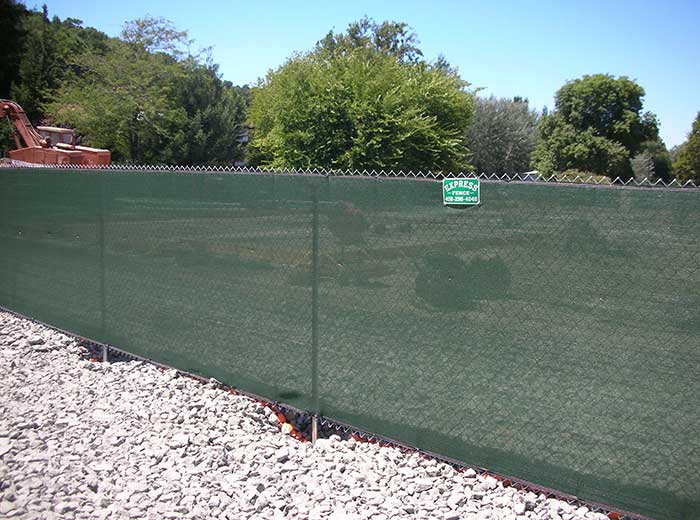 Driven Fence With Screen
We have a variety of different-sized driven fence options available, although most clients opt for our most popular size, as it works well in most applications. The standard size for the temporary chain link is 6′ high 11½ gauge, but we do offer various other sizes. If you need something out of the standard range, please inquire and we'll do our best to accommodate you. Our team is capable of building post-driven fences of all sizes, so you can rest assured you'll get what you need.
Driven posts take a bit of expertise to place, and our team is up to the challenge. These posts provide the stability needed to have a more secure barrier that functions as a deterrent and cannot be easily moved or readjusted. Even so, the driven fence system is designed as a temporary fence, removable once the project is over or your need for it is complete. We'll come and remove it for you, as well.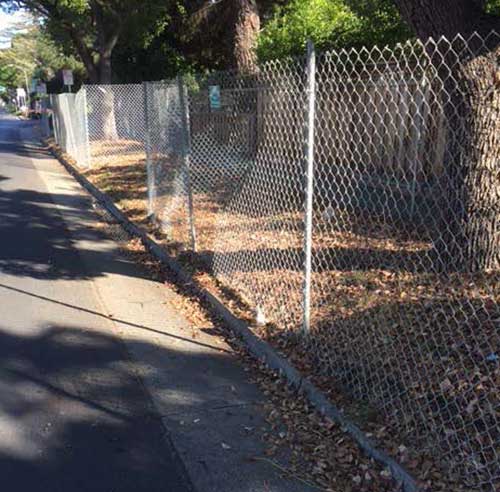 Add-On Items for Fencing
Some post-driven fence systems may require additional items to complete their function. We are able to connect you with these, as well, if needed. Express Fence Rental can package fencing features that provide additional privacy if you would like, and we can also outfit the system with more security features. Please inquire as to what these options are and how much they cost to include. We have a variety available for you to choose from. Our company can also add windscreen and tension wire if you like.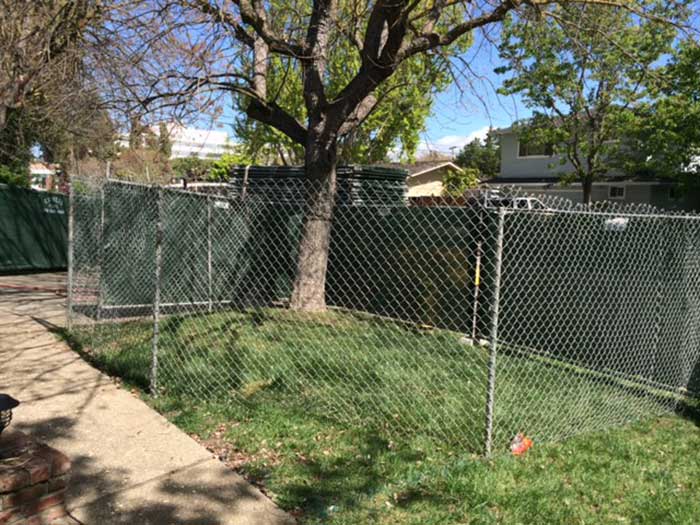 SAN FRANCISCO'S BEST TREE FENCE RESOURCE
Express Fence Rental can help you find the right tree protection fence for your needs, whether you want to shield a new young tree at your San Francisco home, or you need to comply with local regulations on your build site. Our team has been supplying tree protection fences for many years, and we know how to size them, as well as how to set them up properly. Tree fences are used to protect both large and smaller trees from root zone damage.
If you are in need of tree fencing for your next project or job site, you can count on us to provide you with the high-quality product that will do the job right. We can also offer advice if you aren't sure just what you need to protect trees of different sizes. This can be a bit difficult to figure out if you haven't done it before. Our experience in this arena can assist you in making smart choices. Contact our team with any questions.
WHY USE TREE FENCING?
Construction sites can be a dangerous place for trees because of all the heavy equipment that is used to build a structure. Compacted soil is dangerous to the root zone of the trees, and fencing helps make sure this area isn't damaged beyond repair. Root damage is not always immediately apparent, and prevention is the best way to ensure the long-term health of the tree. Tree fences help mark the critical zone and keep roots from sustaining damage.
We have helped countless businesses and municipalities protect the tree roots on construction sites all over the area, and we'd love to help you with your fencing needs, too. If you have any questions about how tree fencing works or if you would like to place an order for your job site, project, or event, please reach out to our  staff  for assistance.
TREE FENCE DELIVERY
Whether you need your tree fencing delivered in two weeks or two days, the professional team at Express Fence Rental can connect you with the right product for your situation. We're happy to drop off two tree fences or 20, and if you like, we can even get them set up for you. Our delivery and setup team is experienced and professional, and they know how to do this work correctly.
Our tree fencing is reasonably priced, so you can be environmentally responsible without a prohibitive cost to your business or pocketbook. Contact us for pricing any time and we'll be glad to work up a quote that reflects your project or event requirements. When you are finished with the fencing, we'll come back out and pick it up for you quickly and efficiently. Our goal is to make sure you have everything you need to protect the trees on time and to remove everything when you're finished. Call to reserve your fencing today!